1GB links are interchangable
Jumbo Files 1GB/7 downloads
6.898 GB ISO Image
Language: 21 languages
5% Winrar Recovery Record included in downloads

Code:Select all
http://safelinking.net/p/cb2e1040ea
password: tooth
Rapid Share 1GB/7 downloads
6.898 GB ISO Image.
Language: 21 languages
5% Winrar Recovery Record included in downloads

Code:Select all
http://safelinking.net/p/59094683e9
password: tooth
Check the files you downloaded……….
Quote:Select all
Got Problem Files ??? We got the fix for corrupt files!
1. Within Winrar, run "test archive" to check your files.
2. If you have a problem file, run winrar "repair". Then test again.
3. Re-Download the file again usually fixes the corrupt file.
Still have a problem download?
4. MD5 Hash Value – HashTab provides an easy way to verify file integrity and authenticity.
To check your download with the original uploaded file, compare the MD5 Hash Value.
Code:Select all
google HashTab v4.0.0 Setup.zip or download here: http://implbits.com/HashTab.aspx
-Small file. Add to your system. How it works:
1- after install, right click properties of the file.
2- go to Hash Tab/File Hashes tab
3- program generates a unique number (MD5) to identify a specific file.
-if your number does not match mine, that would be the problem file. You
would need to re-download the file again and that usually fixes the problem.
-This is quite simple to do and we can identity the specific problem file.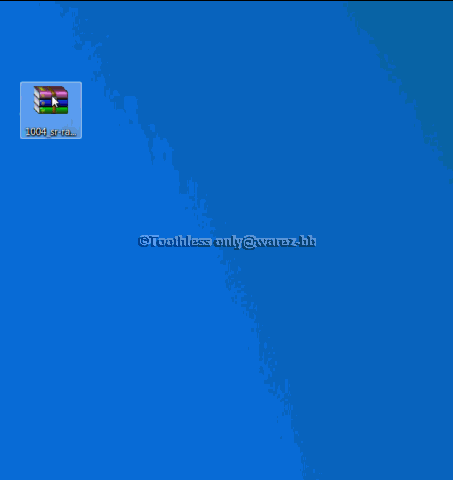 MD5 Hash Value-1GB Portal 2 links
part 01-8EF364E66DF45BE195991BC32DC509BB
part 02-764B446EC515CE230B610FA159C59CDC
part 03-5519CB3B671071FBDFA3308516EF8B0F
part 04-54B4F7581A28BBE256A91F600CD4A822
part 05-0578D89824E385DBD74B811B226E588B
part 06-B5B9829E5BE78EE60B0498BA56DEAD3C
part 07-002FFB4F968302D4D99B92C539842F1D
New May 10-SKIDROW Update 4/5 game patch and crack
You dont need prior updates. Only 4/5.
1-make copy of your save game files
2-double click the Update1 game patch and install
3-Apply cracks in the proper game install folder

Code:Select all
http://safelinking.net/p/af806a9b3f
password: tooth
Code:Select all
http://safelinking.net/p/f40e1ce55b
password: tooth
Saiko117 wrote:Select all
Zero_NZ wrote:
 Can't even get passed the portal 2 loading screen 
put client.dll and server.dll in 
 portal 2/portal2/bin instead of just

 portal2/bin. Just did that and it worked for me. Also make sure
that the other 4 files are in the main installation folder.
How to install:
1-download files and run winrar "test archive"
2-Mount ISO image on your virtual drive
3-follow screen shot install below
 Cracking the game…….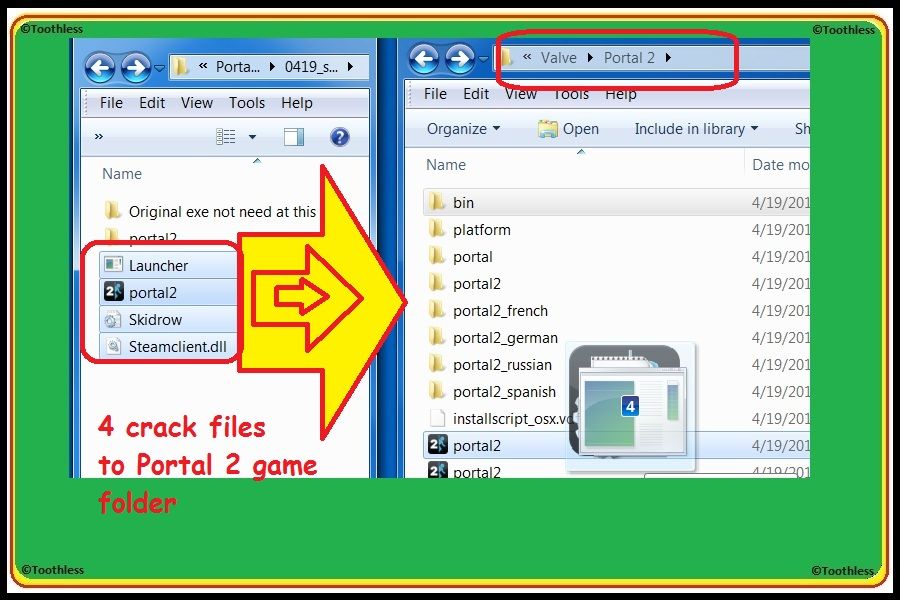 Game Fixes
Install latest video card drivers:
For best performance and video quality, please make sure you have
the latest drivers for your video card when running this game. If
you have an ATI or NVIDIA video card, you can find drivers on their
websites.
Code:Select all
http://ati.amd.com/
Code:Select all
http://www.nvidia.com/
DirectX error, go to Microsoft and get the November 2010 DirectX
After you extract the files to your hard drive, run the "setup.exe" file
Code:Select all
http://www.microsoft.com/downloads/details.aspx?displaylang=en&FamilyID=3b170b25-abab-4bc3-ae91-50ceb6d8fa8d
 Game Fixes
are you getting this:
Quote:Select all
I get an error like "CRC failed in the encrypted file (wrong password ?)"!
RAR cannot distinguish a corrupt file and wrong password. If it were possible, it
would make encryption weaker. Therefore, such a message may indicate both a wrong
password and a corrupt file.
Most likely it is not a password problem, but a download that was corrupt.
Open Winrar, select "commands" drop down list , "test archived files" to find out
what file/files are giving you this error.
If you identified the problem link do one or more of the following:
1-"winrar repair" the specific file
2-RE-Download the problem link and that should fix your problem.
Toothless
For best performance and video quality, please make sure you have
the latest drivers for your video card and DirectX when running this game.
Latest ATI Drivers:
Code:Select all
http://www.ati.com/support/driver.html
Latest NVIDIA Drivers:
Code:Select all
http://www.nvidia.com/content/drivers/drivers.asp
DirectX End-User Runtime:
Code:Select all
http://www.microsoft.com/download/en/details.aspx?id=35
Microsoft Visual C++ 2010 Redistributable Package (x86)
Code:Select all
http://www.microsoft.com/download/en/details.aspx?id=5555
Microsoft Visual C++ 2010 Redistributable Package (x64)
Code:Select all
http://www.microsoft.com/download/en/details.aspx?id=14632
Latest Creative Labs Drivers:
Code:Select all
http://us.creative.com/support/downloads/
Latest Intel Drivers:
Code:Select all
http://downloadcenter.intel.com/
Latest AMD Drivers:
Code:Select all
http://www.amd.com/
Latest Saitek Drivers:
Code:Select all
http://www.saitek.com/